Vanessa Lachey is keeping husband Nick "waist up" during delivery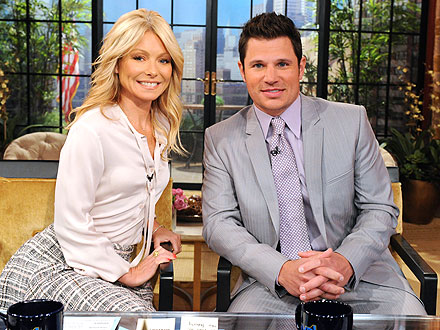 Photo courtesy of David Russell/Disney-ABC
During an interview with Kelly Ripa this week, Nick Lachey revealed some exciting news: him and wife Vanessa are expecting their first child.
And apparently, Vanessa is already giving her husband specific instructions of what she does-and doesn't-want in the delivery room:
"I've been told – because that's what happens now, I'm told things – that it's going to be a waist-up situation, if you know what I mean," said Lachey. "I'm gonna be there, I'm gonna be supportively there, holding hands, and coaching, breathing, all that good stuff," he continued. "But apparently I won't be down below, seeing what's happening. I'll be up above, helping."
There's obviously still plenty of time to change her mind, but if Vanessa really is going to stand firm in keeping Nick "out of the action" so to speak, they'll both be missing out on one of life's most amazing experiences.
And ironically, Nick's already been there, done that.
A friend asked Lachey to be in the delivery room to film his wife giving birth. And that he wanted every detail caught on camera.
"I didn't expect it to be what it was," said Lachey, "but it was a really incredible, awesome moment."
My aunt is a midwife, and my family comes from a very pro-natural, home-birth standpoint. I chose to deliver in the hospital, but still wanted to do things naturally (that's another post!)
My husband was actually the first one to hold our child-he "caught" our precious son (that's such a funny way of saying it-I keep hearing Bill Cosby's "Natural Childbirth" sketch in my head: "Push him out, shove him out, waaaaay out!") and handed him to me. Both of my births were incredible, and I think that was because my husband got to experience the beginning of life so intimately with me. I was grateful he wasn't weirded-out watching either of our boys being born. And I wasn't at all embarrassed or uncomfortable having him help deliver.
And hey, he got me in that situation in the first place-it's only fair he see it through to the end, right?
What arrangements did you have in the delivery room or at home? Did you feel more comfortable having your husband watch from below or above the waist when your baby was born?