The Top Ten: Dreams do come true
Right after I was chosen as Simon Cowell's "Wild Card" pick back in 2003 (soooooo crazy-it'll be 10 YEARS this fall since I auditioned way back when…wow) I remember saying to my mom, "I just want to make the Top 10. I just want to go on tour." Thanks to so many amazing fans (and yes, hundreds of sweet little girls) I made it a few spots further.
Having the opportunity to tour the country with my close friends and fellow contestants from the show was something I'll never forget.
Tonight, the Top Ten, Season 11 were revealed on American Idol. And the finalists are: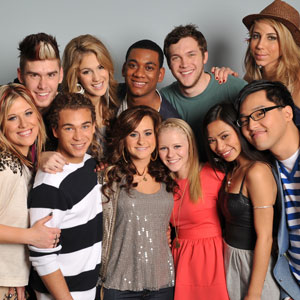 Michael Becker/Fox
Elise Testone, Erika Van Pelt, Joshua Ledet, Phillip Phillips, Colton Dixon, Hollie Cavanagh, Jessica Sanchez, Deandre Brackensick, Heejun Han and Sklyar Laine.
I love watching American Idol for two reasons: it brings back awesome memories for me and makes me realize how lucky and grateful I was to have been given such a once-in-a-lifetime opportunity. I'd always dreamed of being a singer, always wanted to make it "big."
When I was in junior high, I went to a Dixie Chicks concert at the Delta Center (now Energy Solutions Arena). I remember the lead signer, Natalie Maines saying "If you've got a dream, go for it. If you want to be a star and sing up on a stage like this, go for it!" I set a goal that day to one day sing on that very same stage in front of thousands of screaming fans.
My family's always been big on visualization ("If you picture it in your mind, it will happen") and many nights before I'd fall asleep I'd see myself in that arena performing for a sold-out crowd.
Fast forward four years. I'm on tour with American Idols Live!. I'm being introduced by fellow contestant Kim Cauldwell at the Delta Center arena. I walk onstage and can't even hear the music because the roar of the crowd is deafening. All at once I realized my dream had come true.
If I've learned anything in my life up until this point about following your dreams and going for your goals, it's this: Anything can happen. Really. Whatever you want to accomplish in life you can. If you can see it, if you can believe it, if you work at it…magic happens.
I'm happy for the Top 10 of AI Season 11. What an unforgettable moment in their history.