Would you pose with no…makeup?
PEOPLE magazine released its annual "Most Beautiful" issue this week with Beyonce Knowles named "World's Most Beautiful Woman" this year.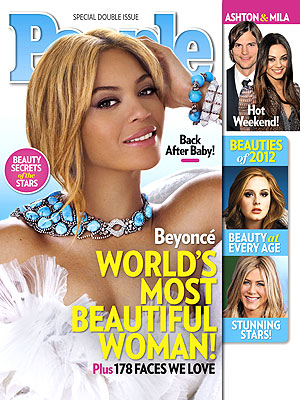 I'm not quite sure what the criteria is for being crowned "World's Most Beautiful", but there were some stars that were asked to pose au natural (sans make-up) for this issue, including quirky girl Zooey Deschanel.
"I was really honored to be asked to be part of the "Beautiful People" shoot…but also really terrified to do this shoot without any makeup…I like makeup," she says. She lists her mother as one of the most beautiful people she's known, and says that "knowing who you are" makes you beautiful.
I love that PEOPLE does an issue featuring stars with no makeup as part of it's "Most Beautiful" issue. I firmly believe that makeup can make you feel pretty-but it DOES NOT make you beautiful. Nonetheless, it's one thing to run to the grocery store looking granola-esque, and quite another to pose in front of a camera for a magazine that's viewed by millions.
I don't agree with a lot of what Hollywood has to offer, but appreciate the fact that they at least TRY to pretend to agree it's not all about the glitz and glamour by showing pics of gorgeous "un-glamourous" stars once a year.
That is, until I see the huge perfected photo of the glamour queen herself on the cover, perfectly poised and painted. 🙂
Would you ever pose without makeup for a family or professional picture? Tell me why.