Cancer, infertility, and putting unborn babies first
My husband and I recently found out we're expecting baby number three.
I was shocked, excited, and a little overwhelmed. OK, a LOT overwhelmed. We just moved into a new house (which I now can't STAND the smell of), changed wards, and my husband starts his EMBA program up at the U this fall.
It's a pretty busy time.
But as much as we've got going on, I still can't wait to add to our little family.
Getting pregnant is something my husband and I have never struggled with. It's always come very easy-in fact, it usually catches us by surprise. We recognize this as a huge blessing, and are grateful every day for the gift of our children.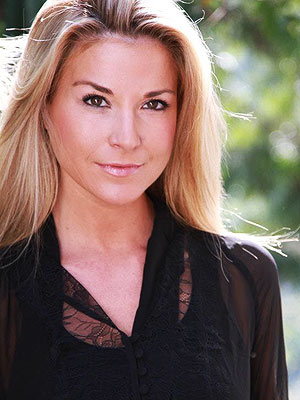 Photo courtesy of Diem Brown, for PEOPLE
I recently came across a blog post by Diem Brown, Real World/Road Rules reality contestant who was diagnosed with ovarian cancer and is about to undergo her second round of chemo. She is also set for surgery to remove the last of her remaining ovary.
But not before she tries one more round of fertility treatments to try and extract some eggs in hopes that further down the road, she can have children of her own.
"Some people think that I am not taking my health seriously and risking too much if I choose to follow through with this next round of hormone/fertility treatments and delay my ovary removal surgery and subsequent chemo treatments. I understand and appreciate those concerns," Diem states in her post.
"Here is the thing: This isn't my first rodeo and regret can become your worst enemy. I've already been through the long and challenging months of chemo six years ago and I remember how depressed I was during certain parts of my treatment," she goes to say.
"I understand there are many ways to have a baby. I know whether you give birth or adopt, you love your child exactly the same. For me, the desire to have a biological baby is the hope that my mom (who has passed away) will come alive in my child. Its important for me to know I've tried every available option to have a biological child."
Despite criticism and putting her own life at risk, Brown has made the difficult decision to put her body second, her possible future children, first. It makes me so sad to think that some people, such as Brown, can be faced with the ugliest of challenges and then I can OOPS! get pregnant at the drop of a hat. Why is that fair? Why do some people pray for years to have a child, and the teenage rebel down the street gets pregnant her first time and considers abortion?
I don't know. I don't know why some people are faced with infertility-often the most deserving of hopeful parents-and some don't even give "trying to get pregnant" a second thought.
Stories of strength like Brown's make me ever more grateful and humble for my two, hopefully three, healthy children. There isn't a day that goes by I don't stare at them in wonder and say a prayer of thanks.
For more on Brown's story, visit http://www.people.com/people/article/0,,20612924,00.html