I have just finished reading the best book.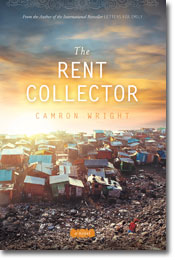 It's entitled "The Rent Collector" by Camron Wright. I know you shouldn't ever judge a book by it's cover, but the picture on the front is one of the main reasons I decided to purchase it.
It was between that one and another new release from Deseret Book that I spotted as I was wandering around on a stormy afternoon, and I couldn't stop looking at the photo of the rows of shacks sitting atop piles of garbage from a dump in Cambodia.
What struck me was the horror — and then the beauty — of the scene. I noticed two people making their way down the mountain of trash to their "homes" at the bottom of the heap. I saw the ugliness and overwhelming chaos of the waste, the shockingly shamble-like shacks balanced unevenly on the shifting mounds, and then the stunning sunset and calm sky above.
This book came highly recommended, and I couldn't wait for a great read over the next week.
I guess I should have paced myself a little better — I finished in two days.
I love books that grab you by the shoulders and shove you in, head first. I love books that shake up your thinking and make you re-evaluate your life. This book is a beautiful story of hope. It's about unwavering love and resilience. It's about the strength of the human spirit.
It is a story about a small family living in Cambodia's monstrous municipal waste dump, trying desperately to provide a good life for themselves and their only child who is constantly sick. They search daily for new cures to try and help their son who is continually running a fever taking him to doctors, trying old methods of healing, and going on and off every different kind of medicine they can afford, which often takes them weeks to save for.
They finally find help in the most unlikely of heros, a nasty drunk, demanding old woman whom they refer to as "the rent collector."
This book shut up my complaining voice-big time. Any small problems or annoyances I thought I had pale in comparison. And although this work is fiction, the characters are real, the setting is real, and some of the events actually happened.
I think about why we read stories of redemption, why it's so important to keep the torch of hope alive and burning. It gives us meaning. It creates an iron will to be stronger, live better, never give up dreaming.
As my heart is heavy with remembrance this September 11, I am grateful for the new insights I've received from Camron Wright's book. Through the ugliness of war and the depths of human sorrow, beautiful things can still be born.
My deep thanks and encouragement to our American heros, parents everywhere, and a loving Father in Heaven who watches over us all.