I'm done with "The Bachelor!(ette)"
Sing it with me: "Bum, bum, bum…another one bites the dust!"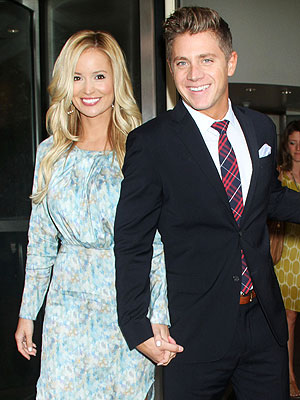 Emily Maynard and Jef Holm
ROGER WONG/INF
As rumors swirled and rampaged and raced across tabloids that Emily Maynard and Jef Holm from ABC's "The Bachelorette" were breaking up because of Emily's infidelity  (sending some football player naked pictures, or kissing someone else, or whatever else they claimed happened), Holm and Maynard spent several good weeks denying everything. Even laughing it off.
Well, no one's laughing now. The couple recently confirmed to PEOPLE online that they had indeed split.
Maynard's statement:
"I have nothing but respect and love for Jef and his family, but ultimately we are just at different points in our lives. I've learned so much and I'm grateful for all of the support I've received. I'm excited and hopeful for the next chapter in my life with my daughter, Ricki. I do hope that you will respect our privacy and allow us the time we need to heal."
Tear. Holm's:
"Meeting Emily on The Bachelorette was an incredible experience, we've had quite the journey. I've never loved someone so much in my whole life, Emily is the best person and mom I have ever met. She opened up her world to me and I fell in love with her, [her daughter] Ricki, her family and the Hendricks…Emily and I are great friends and I hope we can continue to be friends forever. Everyone wants a salacious story to break, but the truth is we are just two people who fell in love and tried our hardest to make it work. I will always love her."
Sounds to me like Holm's was much more committed to this reality relationship than Maynard was. Of course I was rooting for him all along, seeing as he's from Utah and has a great company, People Water that got started for a great cause. It seemed like they were the perfect little family.
WHY is this show still on the air? WHY do shmucks like me keep watching? It's honestly all about the entertainment value now. A good excuse to yack it up with the girlfriends and fall in love with…lust. I make myself sick thinking about all the time I wasted watching that blasted show. It's embarrassing, really.
But what really gets me is when you have children involved. They are so affected by the decision's of their parents. I don't know how she did reality TV once, let alone TWICE with her sweet daughter. And to introduce her to her future new dad, twice, and then call it quits breaks my heart.
So I'm calling it quits too. FOR GOOD. Really. I'm not watching anymore.
I'm not even going to ask any questions about what the majority of y'all think, because I'm pretty sure I can guess what the answer would be: "Can't believe you even watched one season, Carmen!"