Not super impressed with Breaking Dawn Part 2
I think I pulled a McKayla Maroney on Thursday night. (P.S. How crazy is it that she's pulling her infamous "not impressed" face with President Obama?!)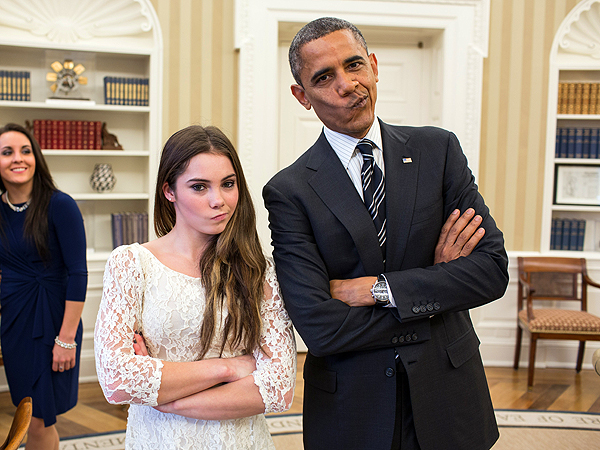 PETE SOUZA/THE WHITE HOUSE/GETTY-photo from PEOPLE.com
True to tradition, several of my best gal pals and I kissed our husband's goodnight and headed off to the late-night showing of "Twilight Saga- Breaking Dawn Part 2." More than anything, these nights are excuses to get away, laugh, enjoy good company and a fun flick.
I don't go because I think I'm going to see the next Oscar-nominated film. (I will be doing that in December, when "Les Miserables" comes out.)
Nope, I go because I've read the books and yes, I did like them. The movies are more about my curiosity as to how the author, Stephanie Meyers (who also helped produce these films) brought to life the story in her head.
And I have to say, this last installment wasn't my favorite.
There wasn't anything wrong with it; in fact, a lot of fans would say they liked it better than the book because of the twist ending (a nice surprise.)
And maybe I wasn't completely into it because I kept checking my phone to see if my husband had texted me with updates on our son (my little boy came down with croup later that day) so it's possible I was a little more distracted than usual.
But I just felt the film lacked some of the magic the other films seemed to have. It was almost like it was too easy for Bella to become a vampire, to easy to control her "newborn" cravings, too easy to accept Jacob into the family once he announced he was going to marry her baby…I don't know. Even though it's fantasy, I need to be sold on the story a bit more!
Maybe it's also because I'm pregnant, but watching Bella get dressed up in a gorgeous gown, go hunting, and THEN meet her daughter for the first time since practically dying in childbirth and then becoming immortal seemed so WRONG to me. I can't even stand the nurse taking my baby away to wrap him in a blanket, for crying out loud.
And speaking of babies, WHAT was with the totally fake computerized baby as Renesmee? When Bella saw her half-vampire child for the first time, the entire audience actually broke out in hysterical laughter. It was that bad. I know real babies have appeared in movies before. Are you telling me there wasn't a baby out there who they could have used who is every bit if not MORE gorgeous than a computer-generated one? Ugh. That creeped me out.
But there are some who disagree with me. The overall response to the movie has been positive among Twi-hard fans, although I think this is more just a consequence of being loyal to the saga. I spoke with a woman who said this was her favorite movie because it made Bella look strong, confident, and capable. But part of what I think was so likable about Bella in the first place was the fact that she wasn't a super-vampire. She was awkward, clumsy, quiet, and stubborn. She risked everything for "love" and that's what made tween and teen girls go crazy.
Love or hate the saga, Stephanie Meyers has created something amazing. Her ability to know her audience so well and connect with them and continue to gain and keep fans over the years proves her smart, creative mind and business sense. (In fact, there were several times during the movie that you know the lines or scenes were carefully crafted specifically for the theater-audience. Claps, shouts, cat-calls, laughs, and gasps were heard all over the theater.)
I liked the books better than the films, but that's usually how it goes for me.
Kristen Stewart, Robert Pattinson and Taylor Lautner in "Twilight: Breaking Dawn – Part 2" Photo: Summit Entertainment
What did you think of the latest "Twilight" movie?