Beyonce lip-syncs the national anthem
Lots of things can happen when you sing on live TV.
You can forget your lyrics, as Christina Aguilera did at the XLV Super Bowl two years ago.
Or your voice can crack as Aretha Franklin's did four years ago at President Obama's first inauguration.
"I wanted to give people the real thing, and pre-recording never crossed my mind," Franklin said when asked why she didn't pre-record her version of the national anthem.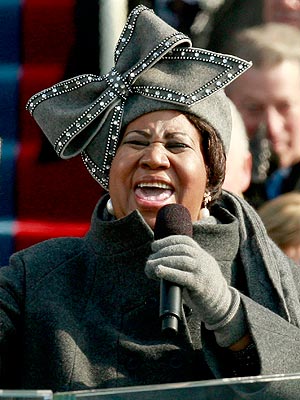 Perhaps that's why Beyonce decided to lip-sync at Monday's presidential inauguration. Her version of "The Star Spangled Banner" was gorgeous and inspiring and, well, pretty much close to perfect. And that got people talking.
ABC reported, "Captain Kendra N. Motz, Media Officer of the U.S. Marine Band, said the Presidential Inaugural Committee requested they accompany Beyonce in her performance, but 'there was no opportunity for Ms. Knowles-Carter to rehearse with the Marine Band before the inauguration so it was determined that a live performance by the band was ill-advised for such a high-profile event.'"
And if the band decided to Milli Vanilli it, why not Beyonce, too?
She's not the only diva to do it. Who can forget Whitney Houston's classic and most famous rendition of the national anthem at the Super Bowl XXV in 1991? No one seemed to mind the fact that she was faking it.
But while some stars can mouth the words and get away with it, others, such as Ashlee Simpson, can never live it down. Her infamous little hop-jig she did onstage after coming in late to a pre-recorded song on SNL became so controversial that her music career never really recovered.
Stars who didn't lip-sync at Obama's inaugeration included American Idol alum Kelly Clarkson and legendary singer/songwriter James Taylor.
Clarkson clearly didn't seem to have issue with the cold; her stunning rendition of "My Country 'Tis of Thee" was indeed live, as was James Taylor's "America The Beautiful."
Taylor was later interviewed by a radio station about what he was most worried about singing live, and he said the cold can really affect a guitarists hands but that it all worked out in the end.
Part of what the audience WANTS to hear is all the perfectly imperfect cracks and squeaks and missed notes that come with a true live performance. Otherwise, what would be the point of ever buying tickets to a concert? I think the majority of the public would rather hear an imperfect live performance than watch a perfectly lip-synced one.
The fact that Beyonce chose to lip-sync wasn't a bad thing, but it goes right along with our culture's mentality of wanting to be/look/sound "perfect" all the time. Pretending to sing a song robs the audience of the genuine beauty of music.
Did you watch the presidential inauguration? Does it bother you when singers choose to lip-sync their songs instead of singing live?