Would you buy a "bigger" Barbie?
Could Barbie be getting a makeover?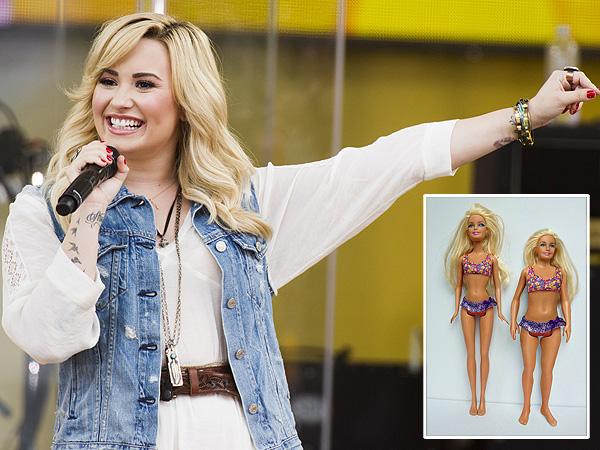 CHARLES SYKES/INVISION/AP; INSET: NICKOLAY LAMM OF MYDEALS.COM
In response to several tweets by actress/singer Demi Lovato, artist Nickolay Lamm decided to create a prototype for a new "realistic" Barbie.
"1 of my biggest dreams, having collected Barbies since I was a kid, is to have my own Barbie BUT with my actual body type.. Weight & height," tweeted Lovato June 10.
Going off of national CDC statistics, Lamm created a doll with shorter legs, flat feet, thicker legs, and wider hips.
After seeing the artist's image, Lovato tweeted her excitement and support, calling the example "awesome."
"Also, Barbie should make dolls with cellulite!!! Hahaha!!! After all, around 95% of ALL women have it!!!"
But not everyone shared in Lovato's enthusiasm. @Parkoh commented, "NOT cool. Thin people are also 'real' women and should not be scapegoats for other girls hating their looks."
And @leavebarbiealone said, "The world already has a huge obesity problem and your just letting people think it's ok to be over weight. Think of the hospital beds it takes up, heart attacks and all other illnesses relating to obesity. We have an epidemic on our hands."
This is a very interesting subject. On the one hand, there is an argument for changing the current Barbie look. Physically, her body is impossible to achieve, and there are many parents out here who feel her look is contributing to childhood body issues and poor self-esteem.
On the other hand, Barbie is a doll. She's not meant to be "real". She's meant to be a pretty plaything that girls can have fun dressing up and playing house with. Comments like @RebbyYumYu's actually bother me a bit:
"I like the realistic doll…not everyone can have a 'perfect' body. That being said, being a few pounds above average is sooo much more attractive than being a few pounds below the average weight. Skinny is not attractive…"
When I was a teen, we had someone come speak to our youth group about healthy body image. This person told us that a size 0 was completely unrealistic, unhealthy, and not "normal."
I was very hurt and upset by this. I had always been a size 0-in fact, I didn't reach 100 pounds until I was a senior in high school (my dad didn't achieve this goal until he was a junior!)-and weighed 98 lbs on my wedding day. I've always been active and tried to eat healthy, but have never been crazy about working out or dieting. In fact, I've never been on a diet.
I have always had small genes…I get those from my parents who are both very slim and fit.
Now, after having three kids my body looks SLIGHTLY (wink wink) different from my teeny teenage years…nevertheless, usually around the time I quit nursing, I get back into my regular clothes again. (With maybe just a little something extra around the middle.)
I'm small, but also "soft." I have a high percentage of body fat on my bones, and could definitely use a good tone-up.
That's who I am. And skinny, soft, pregnant, or in-between, I try to see the positive things about my body and not let my insecurities talk louder than my confidence.
I am an advocate for health and positive body image. Whether that means you celebrate your 100 lbs or 150 lbs. Every body, woman, girl is different. Not everyone who's skinny is healthy, and not everyone who's curvy is unhealthy. I think it's unfair to judge both body types. You never know what someone may be struggling with.
As far as Barbie goes…what do you think about the new look? Would you purchase the old or new version if the option became available?