"Duck Dynasty" Phil Robertson suspended for controversial comments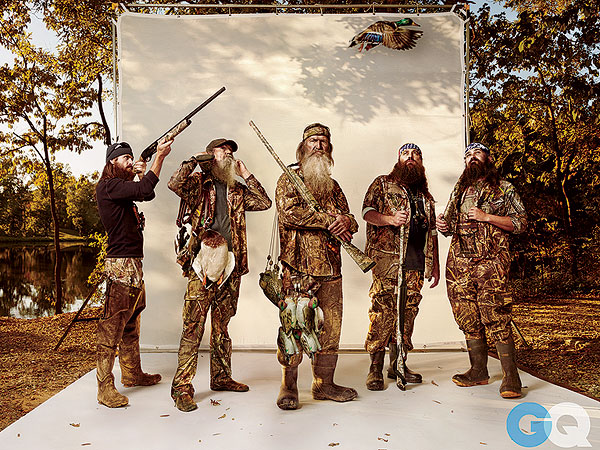 "Duck Dynasty" stars, photo cred Jeff Reidel/GQ
"Duck Dynasty" dad Phil Robertson has been suspended indefinitely from appearing on his own hit show.
In a recent interview with "GQ Magazine", Robertson made some bold comments about his personal Christian beliefs about homosexuality and the "sinful" direction America is headed.
"Everything is blurred on what's right and what's wrong," he says. "Sin becomes fine."
"Start with homosexual behavior and just morph out from there. Don't be deceived. Neither the adulterers, the idolaters, the male prostitutes, the homosexual offenders, the greedy, the drunkards, the slanderers, the swindlers—they won't inherit the kingdom of God. Don't deceive yourself. It's not right."
The gang from "Duck Dynasty" are all known for their "bible-thumping", stick-to-your-roots-and-stay-grounded ways, so this point of view-while maybe a bit out-spoken-should not be a complete surprise, right?
"We're Bible-thumpers who just happened to end up on television," he says in "GQ." "You put in your article that the Robertson family really believes strongly that if the human race loved each other and they loved God, we would just be better off. We ought to just be repentant, turn to God, and let's get on with it, and everything will turn around."
A&E network is not supporting Robertson's comments and have decided to pull the patriarch from the program for the next season.
"We are extremely disappointed to have read Phil Robertson's comments in GQ, which are based on his own personal beliefs and not reflected in the series Duck Dynasty," reads a statement from the network that was sent to PEOPLE. "His personal views in no way reflect those of A&E Networks, who have always been strong supporters and champions of the LGBT community. The network has placed Phil under hiatus from filming indefinitely."
But Robertson insists his comments were never meant to be judgmental or discriminatory.
"We never, ever judge someone on who's going to heaven, hell. That's the Almighty's job. We just love 'em, give 'em the good news about Jesus—whether they're homosexuals, drunks, terrorists. We let God sort 'em out later, you see what I'm saying?"
Robertson also released this statement to PEOPLE:
"My mission today is to go forth and tell people about why I follow Christ and also what the Bible teaches, and part of that teaching is that women and men are meant to be together. However, I would never treat anyone with disrespect just because they are different from me. We are all created by the Almighty and like Him, I love all of humanity."
What are your thoughts on Robertson's comments and A&E's decision to suspend him?