P!nk shines at Grammy's, while Swift has another OMG moment
Sunday was a big night for television.
Between the Grammy's, the Pro Bowl, the Australian Open, and Sean and Catherine's wedding, our two DVR's were on overload.
I didn't catch much of the Grammy awards, but one amazing performance I did see live was P!nk's. Let me tell you why I loved it.
P!nk is, I believe, one of the most underrated pop vocalists. She is amazing. Her voice is unique. It's real. She has a huge range. She always sings with so much emotion, and she actually sings live. (A pop singer actually singing?! Shocking.) P!nk's grammy performance stood out to me because of how great and different it was-WITHOUT being raunchy, offensive, or in-your-face.
P!nk did a "Cirque du Soliel" type of performance. She started out suspended above the audience and did all sorts of beautiful-and DIFFICULT-acrobatic falls and rises hanging on to two circus ropes (or curtains…or satin streamers…whatever those things are called!) She somehow managed to sing and flip and fling herself around before landing on the stage and finishing her song "Try" then mashing it with Nate Ruess for their duet "Just Give Me a Reason."
It was classy and entertaining and fresh.
Another performance I was pleasantly surprised at was Taylor Swift's. Seated at a piano this time, Swift gave a moving rendition of her song, "All Too Well." I thought she sounded great-in fact, I really liked her at the piano instead of with a guitar strapped on or awkwardly dancing (although she did throw in some really serious head-banging/hair flipping moves midway through.) Swift was up for four awards this year, but didn't snag a Grammy. Perhaps what she'll be remembered most for is her "almost" Grammy: after thinking she won album of the year, Swift and her posse jump and start clapping and celebrating-for about a millisecond-before they realize it was another album that won. Doh!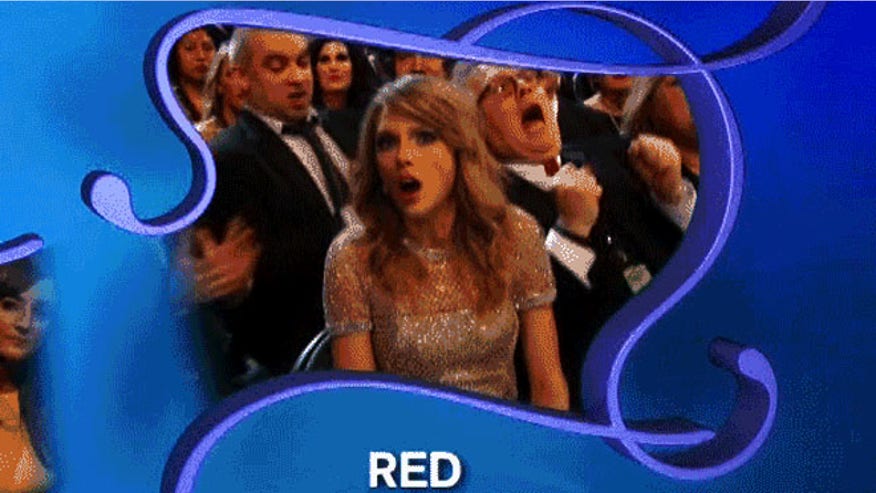 But true to Swift style, Taylor stood and applauded with class and grace.
(In other news: Sean and Catherine are now married and can consummate their union. The ENTIRE wedding spectacular was based on how shocking it was that two people would actually SAVE themselves for marriage. Is it really that rare nowadays? Crazy. I still watched it. #grownsexy #lovesprinkles #brainjunkfood)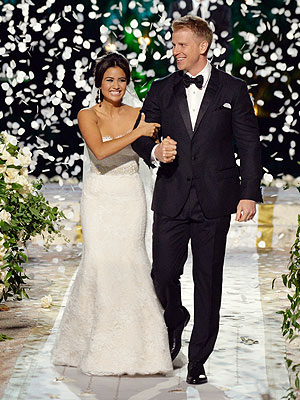 Catherine Giudici and Sean Lowe
TODD WAWRYCHUK/ABC