Goin' Courtin'! "19 Kids and Counting" parents tag along on daughters dates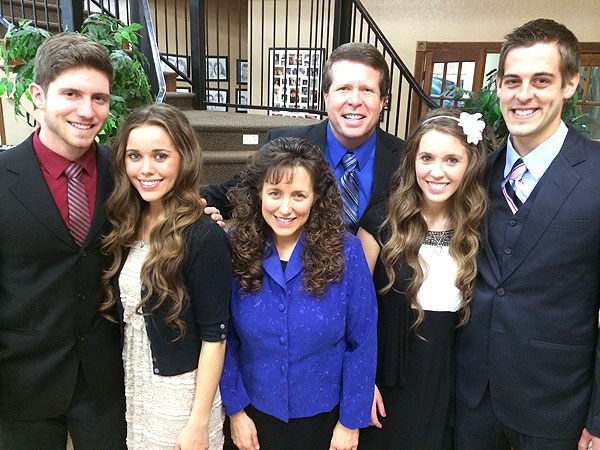 The couples! Ben Seewald and Jessa Duggar; Michelle and Jim Bob Duggar; and Jill Duggar and Derick Dillard-photo courtesy Jim Bob Duggar, PEOPLE online
If my parents had insisted on coming with me on my dates in high school and college, I'm pretty sure I would have been mortified.
Not that my parents would have done anything really embarrassing…although there was that one time my dad showed up to answer the door in his skivvies…and passed gas in front of my fiancé…and knocked on the window of a car I was kissing in to tell me it was time to come inside. (That boy vowed he'd never come back.)
But I also wonder if I would have avoided some uncomfortable situations had I had a chaperone along.
"19 Kids and Counting" mom and dad Jim Bob and Michelle Duggar choose to accompany their children while they "court"-not date-potential marriage candidates. And beginning April 1 on TLC, we get a peek into the budding relationships of Duggar daughters Jill and Jessa and the guys that are courting them.
So what's the main difference between courting and dating?
"Courting is getting to know each other in a group setting, both families spending time together and the couple setting goals together to determine if they are meant to marry. With dating, a couple will often pair off alone and that sometimes leads to a more physical relationship."
I can attest to the truthfulness of that. I look back on some of my "relationships" in both high school and college that were mostly based on whether or not I enjoyed cuddling during movies or how good of a kisser they were, and feel a lot of regret and guilt. Kissing and cuddling are definitely MY love language. I enjoy physical touch. But because we weren't able to ACT on those feelings and needs, it was frustrating and even risky putting ourselves in situations where we were alone and our hormones were raging. My husband (then fiancé) and I had each set a goal growing up that were going to remain morally chaste before marriage. In order to keep that goal, we made "rules" for ourselves that included no kissing for prolonged periods of time, no being alone in each other's bedrooms or basements, and no laying down together. I didn't have my parents there telling me what to do, but they definitely gave me their counsel and some strong warnings.
We did our best to keep the "rules" we set, and were married on December 15, 2005 in the Bountiful Utah LDS temple.
I know there are many people who don't live by or agree to the rules or goals Brad and I set. But for us, they provided protection and safety.
Not only are the Duggar girls also waiting to share a physical relationship until marriage, their father is the one who has introduced both partners.
According to PEOPLE online, although "other men have approached Jim Bob to ask if they could begin a relationship with Jessa – as well as his other older daughters – Jim Bob says that Ben Seewald is the first to make the cut."
"He's the first one she has shown interest in that has a spiritual focus and legitimate calling about ministry work," says Jim Bob. "When a guy is pursing your daughter, you want to check him out and see if there are any red flags and with Ben, there hasn't been. He is very sharp. It appears like a match made in heaven."
According to PEOPLE, "Jessa (20) and Ben (18) met in church and then asked to correspond via text and on the phone. The Duggars agreed – and were kept in the conversation as the couple texted each other, mostly asking each other questions about theology and scripture."
"Jessa has a very steady personality," says Michelle. "It has been interesting to watch their interactions because for her personality type, they share very similar beliefs. It has been fun to watch them and both of our phones are going off back and forth, ping, ping, ping."
As far as older sister Jill (22) goes, she met her potential mate, Derick Dillard (25) through her father in which he received an email from a young man about being a "prayer companion" during one of their international trips-and developed what Jill called a "bromance."
"I had gotten an email from Derick a few years ago and gave him my phone number so he could share the work he was doing in Nepal," Jim Bob says of his first interactions with his daughter's new beau. "I was impressed with him as I got to know him over the years. He sounded like an amazing young man. I felt like from the beginning, they had similar personalities and goals. I thought they would hit it off."
"I was really impressed with his character and I was surprised how much we have the same vision and life goals," said Jill."
I am very interested to see what courting life is like in 2014 according to Duggar! And I must say, the thought of accompanying my boys on future outings with females seems like a pretty good idea to me-as well as playing a big role in selecting who they'll marry!
What are your thoughts on the Duggar way of dating?