Derek and Julianne Hough are living their dream.
Their dance tour, "Move Live on Tour" is set to come to the Maverick Center on July 16. "We really want it to feel like a rock concert for dance," said Derek in an interview for People magazine. "We want the audience moving."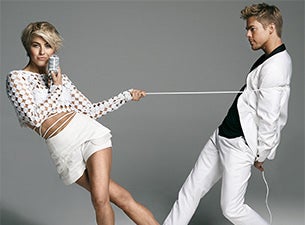 The Houghs grew up in Utah and were raised members of The Church of Jesus Christ of Latter-Day Saints. Julianne laughs that her dad used to tell Derek, "No hip thrusts onstage!"
"I now think that's so funny because he earns a living doing that," she quips.
The two lived in London for much of their childhood years while their parents were going through a tough divorce.
"It was a very difficult time for our family," says father Bruce. "We didn't want them to have to choose between their parents, and they had a great opportunity in England."
Despite suffering from mental and physical abuse while overseas which she discussed in an emotional interview with Cosmopolitan last February, Julianne said overall, the experience "created strength."
"I'm a very forgiving person," she told Cosmopolitan, "what's past is past."
After London, both Houghs moved to LA to become pros on ABC's "Dancing With the Stars." Julianne won two mirror ball trophies before moving on to a successful acting and singing career (she starred in "Rock of Ages" and "Safe Haven") while Derek's number is up to five, coming in second last year with paralympic snowboarding pro Amy Purdy.
Derek and Julianne say their success is largely attributed to their "rigorous childhood." "People will say, 'How could your parents let you go off to do that?'", says Derek. "I think it's great that they saw an amazing opportunity. That is the reason we are here today."
Check out the newest edition of People magazine (June 30, 2014) for the full article.